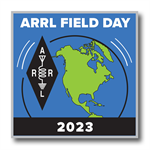 Greetings Field Day Enthusiast (flier) (map)
ARRL Field day 2023 is quickly approaching. MARCA has reserved the Gentry Group Campground and hopefully there are no Forest Fires in the area and the Forest Service won't close the forest just before our visit as they sometimes do. Field Day starts Saturday June 24th and Sunday June 25th. We will begin our site setup early afternoon, 1pm-ish, on Friday June 23rd. The official start of the operating period is 11:00 am Saturday morning and the ending time is 10:59 am Sunday morning.
Members, if you are planning on attending, Please contact Paul Bennett, kd7kdo, Field Day Committee Chair to confirm your attendance.
Guests interested in amateur radio, or curious about Field Day, or just looking for an adventure are welcome to attend, we'll bring you right into the activity with no worries.
Gentry Campground is located east of Payson just off of 260 and close to Black Canyon Lake. Directions are from Payson, go east past the edge of the rim, past Canyon Point Campground to Black Canyon Lake turnoff. Turn south and follow the gravel but well maintained road to Gentry Lookout Tower. The distance is about 5 mi past the 260 turnoff. Set GPS coordinates to 34°18'3.76"N 110°42'48.26"W. ( 34.301321° , -110.713044°).
MARCA will be operating as a class 2A field day station. Class 2A allows 2 regular stations plus a GOTA station, a vhf station, and a satellite or packet station. Equipment setup will start on Friday afternoon and finish on Saturday morning. The actual FD operation begins at 11:00 am Saturday and continues for a 24 hour period. After the operating period ends we will tear down and be ready to hit the road back to the "cool" valley mid Sunday afternoon. We will operate phone, cw and psk.
A MARCA sponsored BBQ is planned for Saturday night. (bbq, hot-dogs with the "fixins", beans, chips and soda). We also are planning on coffee, eggs, sassage, bacon, a stack of banana pancakes on both Saturday and Sunday mornings. You should provide all of your other meals, snacks, drinks, water, etc. There is lots of camping space in the trees, so bring tent or motor home, sleeping bags and your normal "camping" equipment. If roughing it isn't your style, there is a small motel at Forest Lakes, which is close by. Also, a large group of the FD participants typically visit a local restaurant on Friday night.
All hams, family, friends, and neighbors are welcome. If you would like to participate please email us with the number of people in your party, the number of hams and your approximate arrival time. Also let us know if you can bring a rig or other equipment. Other equipment might be headphones, your favorite key or paddle, coax with PL259s etc. Supprise, this year the club has aquired sufficent Deep cycle 12 volt batteries. You are welcome to bring your batteries for you personal operations.
Join us for the entire field day event of Friday, Saturday and Sunday, for the weekend or just come up for the Saturday operations and Saturday evening bbq.
Here is the ARRL website announcement http://www.arrl.org/field-day to brush up on the official rules.
Paul Bennett
KD7KDO